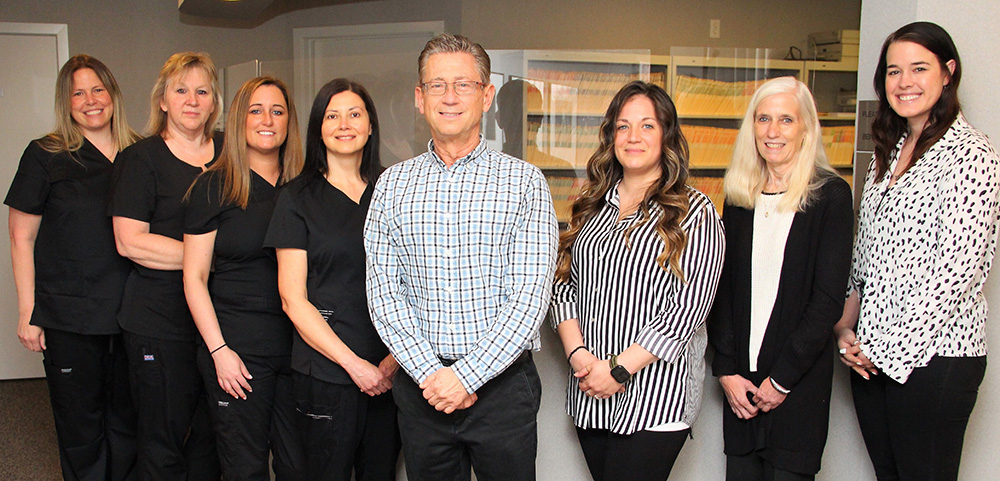 We recognize that all of our patients are unique and deserve to receive orthodontic care that reflects their individual needs. Our experienced and talented team is committed to working with you and your family to create a comfortable, stress-free, and rewarding orthodontic experience every time you visit our practice. We are pleased to welcome you and your family, and we look forward to working with you.
---


Andrea
Receptionist
As a receptionist, I answer phones, schedule appointments, file and process insurance claims. I work parttime as a restaurant server in Oxford on the weekends and often encounter our patients there. The best part of my job is getting to know them as they grow during the course of their treatment. I love coming to work because Dr. Previtt is hilarious and keeps the entire staff laughing and on our toes.
Outside of work, I enjoy spending time with my best friend Bridget, my niece Audrey, and my two nephews, Fincher and Hayden. I just bought a house with my partner, Trevor, and we have been spending most of our time getting things in order and making it a home. We enjoy playing Mario Kart and Super Smash Bros in our spare time and hanging out with our two cats, Dudley and Garrett, and our dog, Tucker.
---

Erica
Receptionist
My position as a receptionist involves answering phones, scheduling appointments, processing payments and insurance, mail distribution and filing. The favorite part of my job is scheduling, processing insurance and hearing all of Dr. Previtt's jokes and witty comebacks. I love working with the doctor and the rest of the team, with everyone being so nice and helpful. We have fun in and out of the office, always smiling and laughing.
I have a 16 year old son. I love to hang out with my family and friends on the weekends, as well as spending time with my niece and nephews. I like playing cards and watching movies, but most of all, I LOVE to watch my son play football and basketball.
---

Kathy
Bookkeeper
In addition to performing bookkeeping duties for Dr. Previtt, I have also worked for several non-profit organizations over the past 30 years.
I enjoy exercising, cooking and spending time with my two boys and our dog, Nash.
---


Lori
Assistant
As an orthodontic assistant, my position involves making certain that our patients have the best treatment possible, from start to finish. I have worked along side Dr. Previtt for 26 years. The favorite part of my job is calming a nervous patient and seeing how happy they are by the time they finish. Our team is always willing to do what it takes to make every patient's experience the best we possibly can.
When I'm not at work, my husband and I love our time with our seven kids, four grandkids, and several pets. We love to garden and ride our motorcycle along the beach.
---

Linda
Assistant/Lab Technician
Hi. I'm Linda. I've been in the orthodontic field for 32 years and have been part of Dr. Previtt's staff for the last 15, as an assistant and lab technician. The best part of my job is seeing our patients' faces light up when they see their new, beautiful smiles! I enjoy working with such a great team in a fun, caring environment.
Outside the office, I enjoy cooking, traveling and spending time with my husband, son and my two rescue cats.
---

Dani
Assistant
I graduated from Briarwood College with my Associate's degree in Dental Administrative Assisting in 2011 and have been working in the dental field ever since. I enjoy working with patients every day, helping to create the perfect smile for them. I make certain that they are as comfortable as possible each and every time they come for a visit. My favorite part of the job is seeing how happy they are to see their smile when the braces finally come off. Dr. Previtt and the team make it enjoyable to come to work every day.
Outside the office, I have a home with my husband, Bill, and our two dogs, Dyna and Zero. We spend our free time going for long rides on our motorcycle and enjoying the time with our friends and family.
---

Janet
Assistant
I have had the pleasure of working in the orthodontic field for more than 30 years. One of the best things about doing this is being able to build relationships with our patients and watch as they progress through treatment.
When I am not in the office, I enjoy traveling with my husband and spending time with my children and grandchildren.